TokenLite – ICO / STO Token Sale Management Dashboard for ICO Startup / ICO Agencies or Cryptocurrency Based Company.
Demo Access:
Frontend
Admin Access: https://test.ecozeentech.com/login
Email: test@ecozeentech.com Password: test1234
Copy & Paste the url to your browser and view the demo version of this php script.
If you going to start your new business with crypto/blockchain then you might need to run ICO / STO / IEO to sale your token/coin and raising funds or get investment and make your project/product success. You are in right place because TokenLite helps you to do everything very easily.
Our ICO Admin Scripts helps your contributor to purchase your token easily. You can manage your token amount, soft-cap/hard-cap, token price, bonus through each stage and set payment wallet address that automatically apply on purchase process.
It's support major and most popular cryptocurrency (ETH, LTC, BTC, BCH, BNB, TRX, XLM, XRP, USDT, USDC, DASH) with fiat currency (USD, GBP, EUR, CAD, AUD, TRY, NGN, INR, RUB) so helps you sales your token in any currency. You can easily manage which currency will be accept or not and also can be set based currency your own.
It has built-in referral bonus management system so investor/contributor can invite more people to bring into your platform. You can specify the bonus amount for both user as who invite and who join and bonus will automatically adjust once transaction approved.
TokenLite included 2 Layer security option as Two-Factor Authentication (2FA) for every users so they can protect their account more strongly. Also system allow to change password through email confirmation which give more security for users.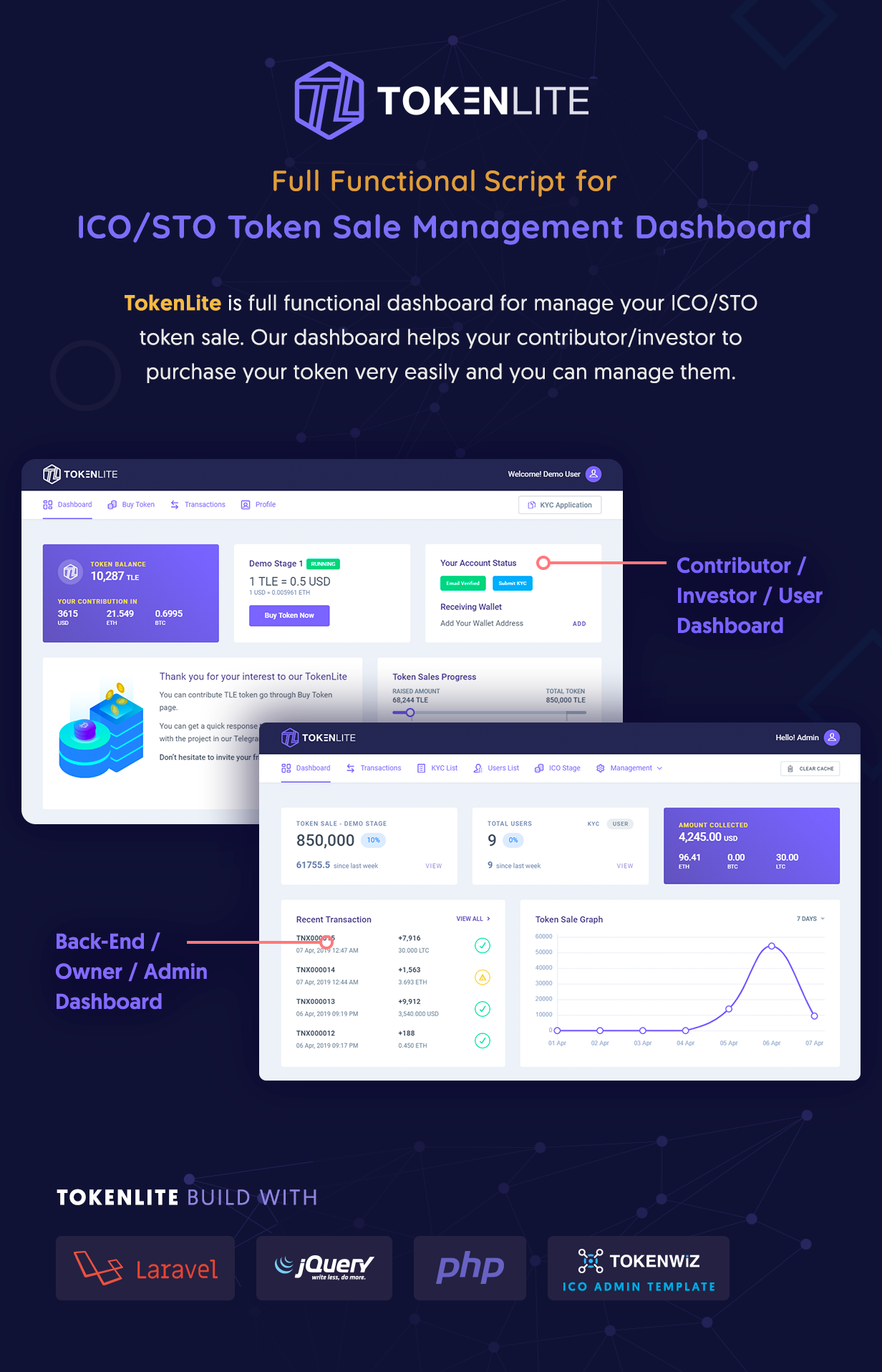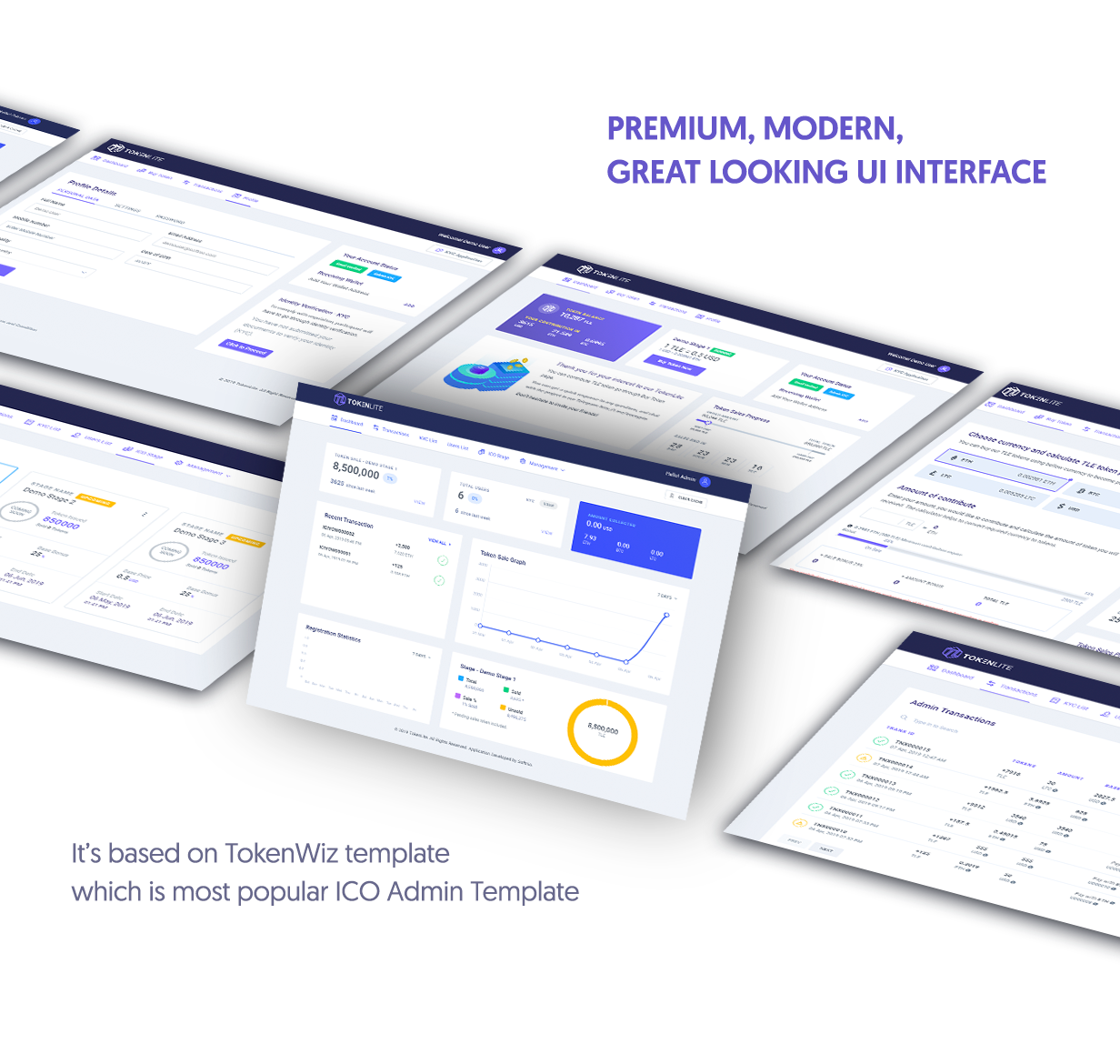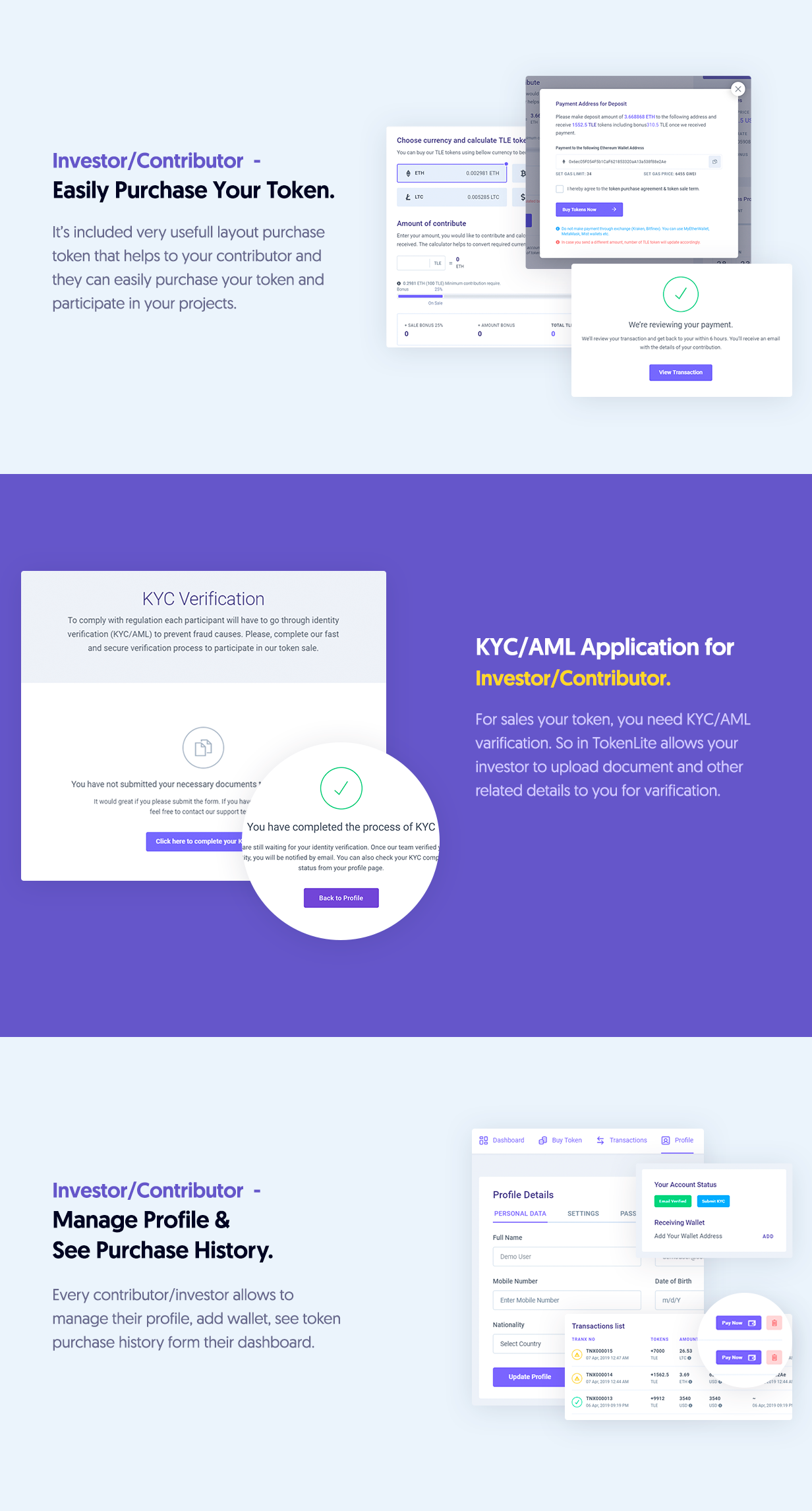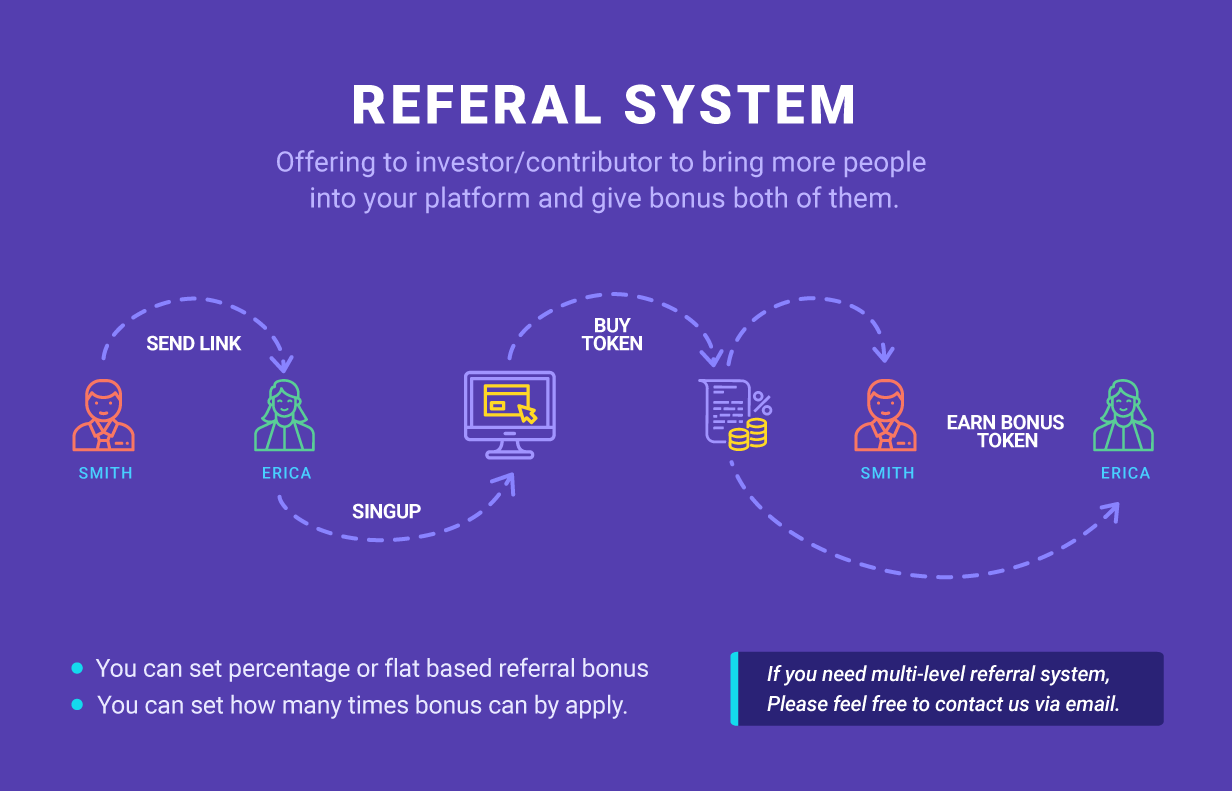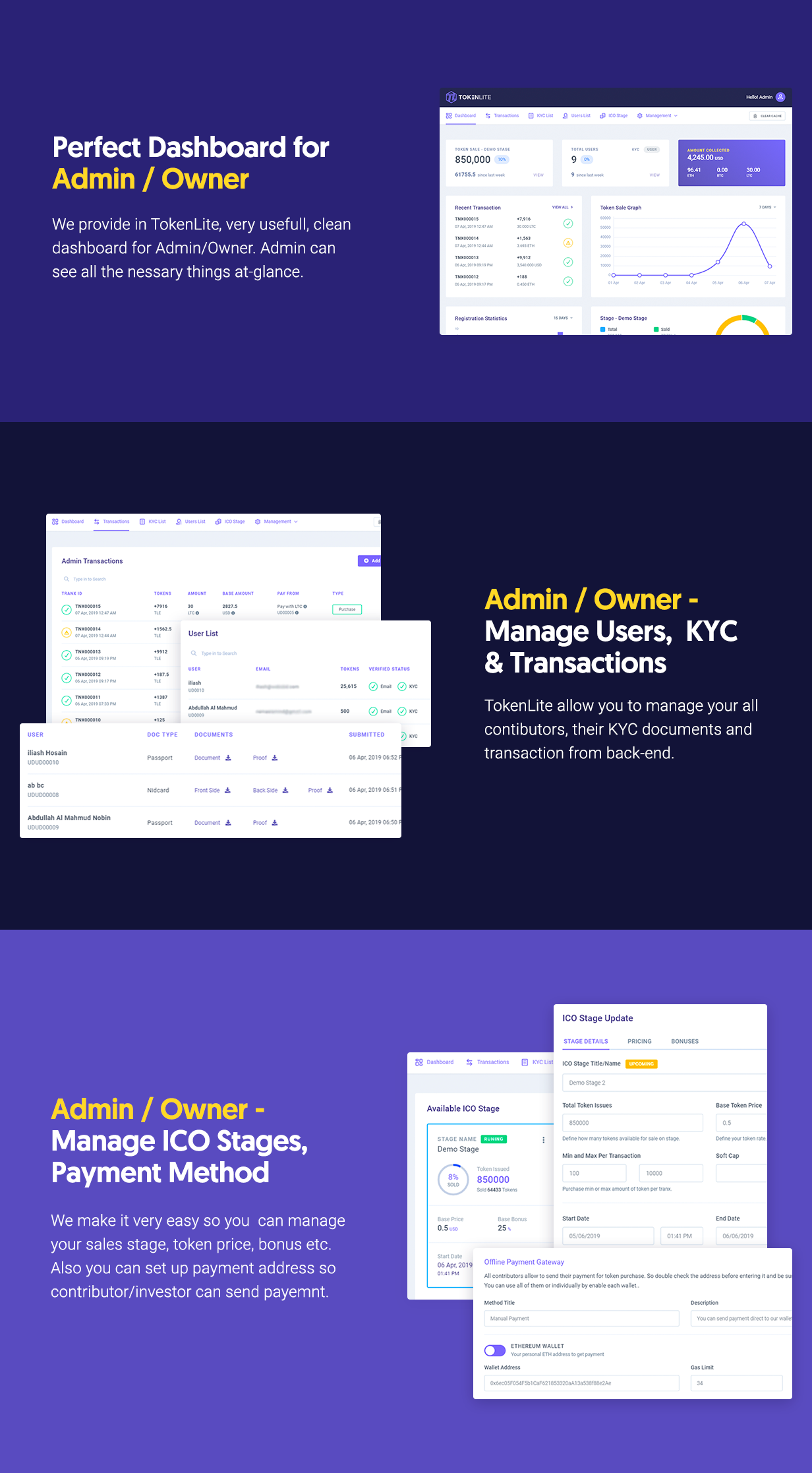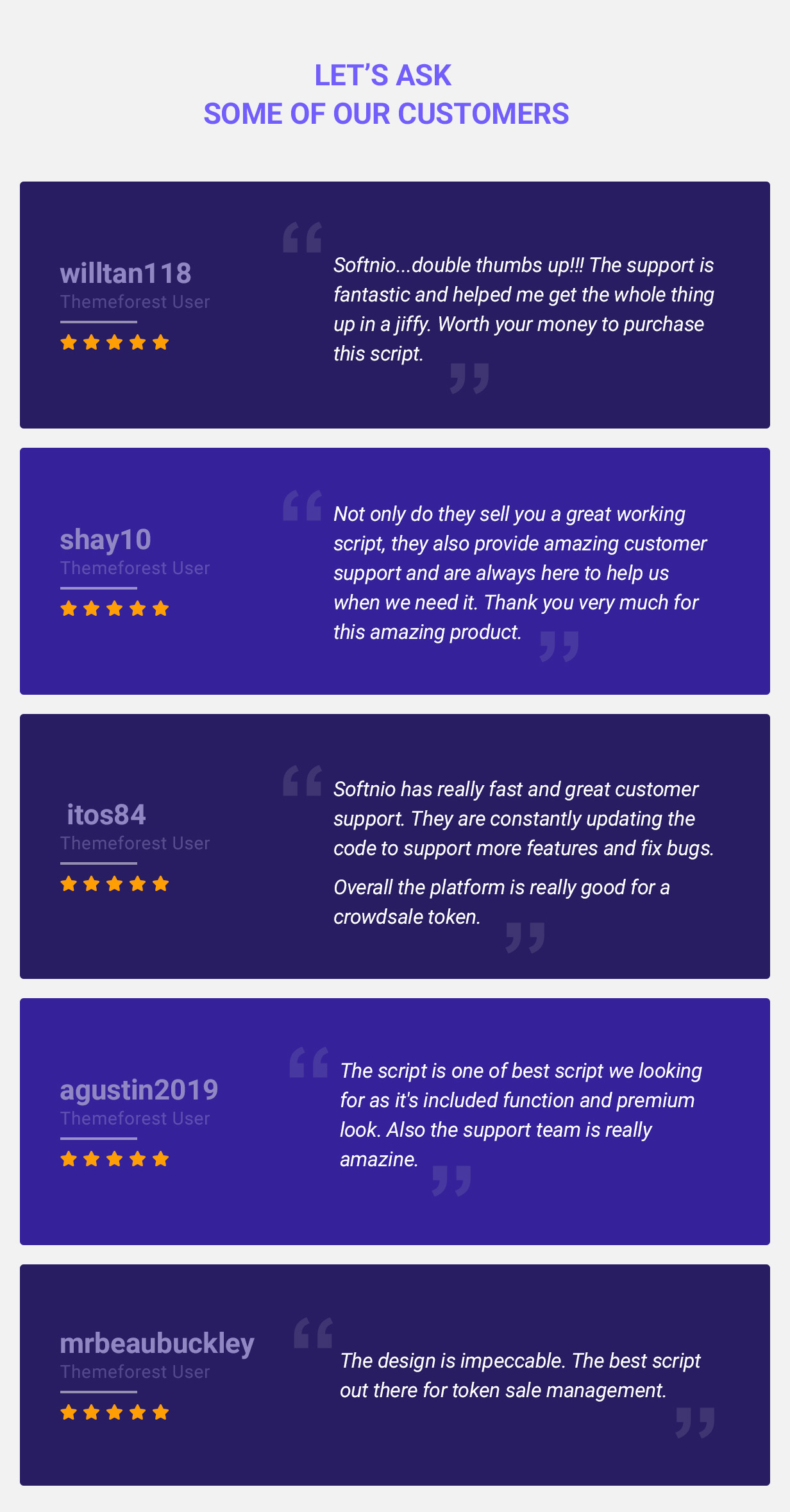 TokenLite – ICO / STO Token Sale Dashboard Features
A complete solutions ICO / STO token sales
Clean, modern, great looking UI interface.
Build-in 5+ color scheme / preset for User and Admin area.
Sale your Token and manage them easily.
User Verification system.
Two-Factor Authentication (2FA) for all users
Login/Register with social account (Facebook & Google)
Multiple Layout for Login/Registration for page
KYC/AML system for Identify users.
My Token page for investors to view every thing on same page
Control KYC From Fields to show/hide and required or not.
Set KYC verification is required for purchase token.
Payment Gateway – (Offline Crypto & Bank Payment)
PayPal Online Payment Gateway.
Referral Bonus Program Supported.
(If you need multi-level referral bonus system, please contact us via email)
Total 40+ currencies supported in application.
6 Main currency supports – US Dollar [USD], Pound [GBP], Euro [EUR], Bitcoin [BTC], Ethereum [ETH], Litecoin [LTC]
Additional Crypto-currency – Ripple [XRP], Stellar [XLM], Bitcoin Cash [BCH], Binance Coin [BNB], Tether [USDT], TRON [TRX], Dash [DASH], USD Coin [USDC], Waves [WAVES], Monero [XMR], Binance USD [BUSD], Chainlink [LINK], Uniswap [UNI], Solana [SOL], Dogecoin [DOGE], Cardano [ADA]
Additional Fiat Currency – Canadian Dollar [CAD], Australian Dollar [AUD], Russian Ruble [RUB], Turkish Lira [TRY] , Indian Rupee [INR], Nigerian Naira [NGN], Brazilian Real [BRL], New Zealand Dollar [NZD], Polish Złoty [PLN], Japanese Yen [JPY], Malaysian Ringgit [MYR], Indonesian Rupiah [IDR], Mexican Peso [MXN], Philippine Peso [PHP], Swiss franc [CHF], Thai Baht [THB], Singapore dollar [SGD], Czech koruna [CZK], Norwegian krone [NOK], South African rand [ZAR], Swedish krona [SEK], Kenyan shilling [KES], Namibian dollar [NAD], Danish krone [DKK], Hong Kong dollar [HKD]
Application Access API to access data from external site.
Export Option (Transactions/Users/KYC) in CSV format.
Separate wallet option a KYC form wallet and User receiving wallet.
Wallet can be set single or multiple with your own name.
12 ICO Stage option with update and separate settings.
Set token price up to 8 decimals (recommended to use max 6 decimals).
Multiple Tier base price control.
Fixed & Tier base amount bonus.
Automatic and manual exchange rate.
Manually Add token or bonus token to User account.
Manually review transaction and approve payment.
Transaction List & Details for User and Admin.
Each Stage Overview (At a glance) for Admin
Advance search and filter option for Transactions, Users and KYC
Quick & Jump pagination option for Transactions, Users and KYC Listing
Website settings, Pages management.
Full White-label Branding feature (automatic) against Extended License.
Multilingual support for User/Investor area – You need to translate own language
Manage Language and Translation from Admin Panel
Google reCaptcha v3 supported on Login and Registration page.
Email Template and Admin notification management.
Fully Responsive and Optimized Layout.
Regular update with new features and bug fixing if encounter.
Support modern browser and cross browser compatibility.
Free premium and quick support 24/7.